We can't wait to meet you (and your teeth)!
Meet the team behind the teeth.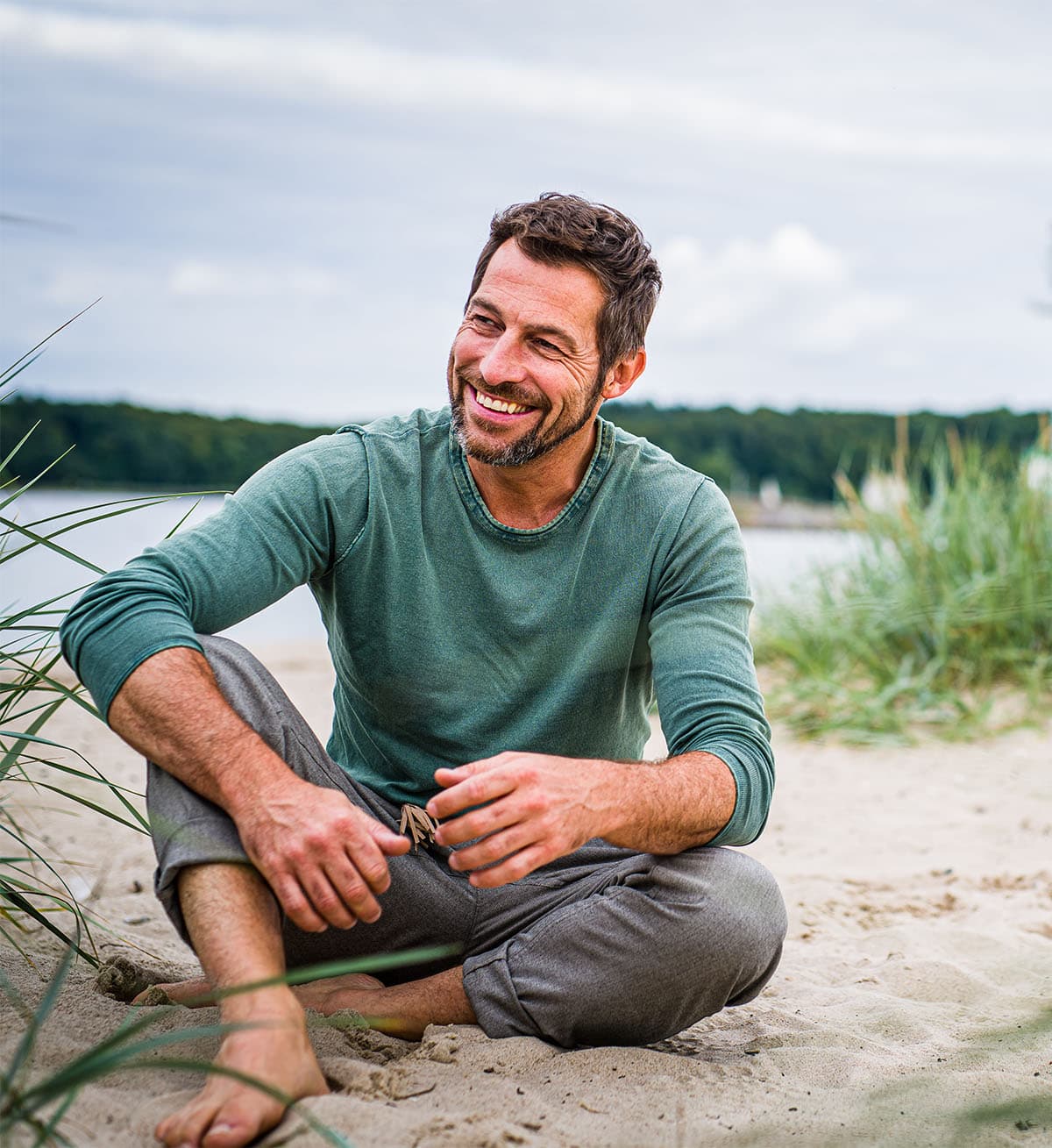 Industry leaders in dental.
Our dentists, prosthetists and technicians are leaders in their field, working with our patients to create the smile they want and teaching them how to take care of it.
We know it's not just about looking good; it's about feeling good, too.
There's strength in numbers.
150
patients seen every month
6,500
metres of floss used per year
35
years of dental experience and counting
380
dentures fitted each year
Our practitioners.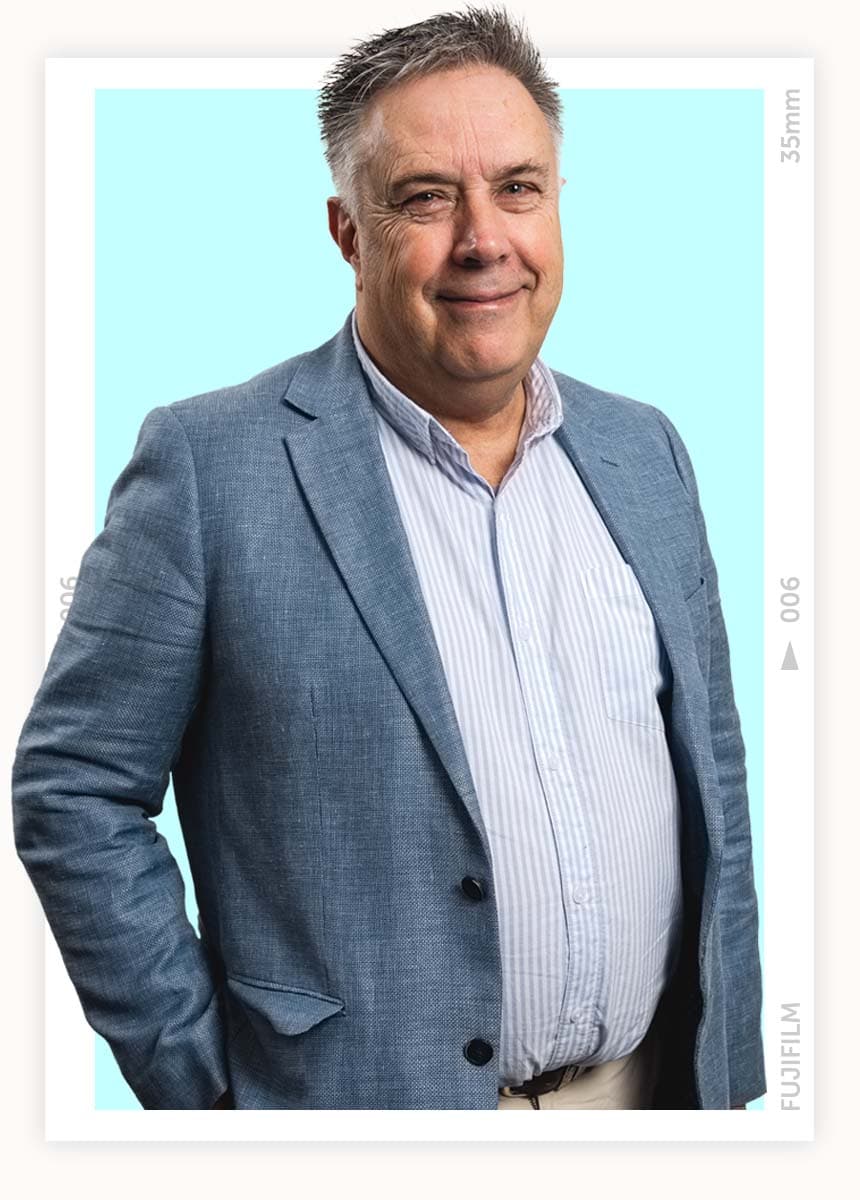 Mr Peter Rodda, ADDP
Dental Prosthetist
Our founder of Horizon Pro Dental, Peter Rodda, is a highly dedicated professional who has made significant contributions to the dental industry, specifically in the area of dental prosthetics. Over the course of his remarkable 30-year career, he has become a trusted figure in the Fullarton community, as well as the wider region of South Australia.
As a dental prosthetist, Peter has been committed to providing exceptional care to his patients. Throughout his extensive career, he has served the community with unwavering dedication, earning a reputation for his expertise and compassionate approach. His profound knowledge and skills have allowed him to tackle even the most challenging cases, consistently delivering outstanding results.
Peter's influence extends beyond his clinical practice. He has played a pivotal role as the head lecturer for the South Australian Dental Prosthetist Course, imparting his vast experience and knowledge to aspiring dental professionals. Through his teaching, he has shaped the next generation of dental prosthetists, ensuring they possess the necessary skills to excel in their careers.
Recognising the importance of oral health care for the elderly and those residing in nursing homes, Peter has been heavily involved in initiatives aimed at improving their quality of life. His passion for the well-being of this vulnerable population has driven him to pioneer denture treatment techniques specifically tailored to address complex cases. By developing innovative solutions, Peter has transformed the lives of numerous patients, enhancing their oral health and overall confidence.
Peter Rodda's dedication, expertise, and commitment to improving oral health care have earned him the respect and admiration of his colleagues and patients alike. His impact on the Fullarton community and regional South Australia is immeasurable, leaving a lasting legacy in the field of dental prosthetics.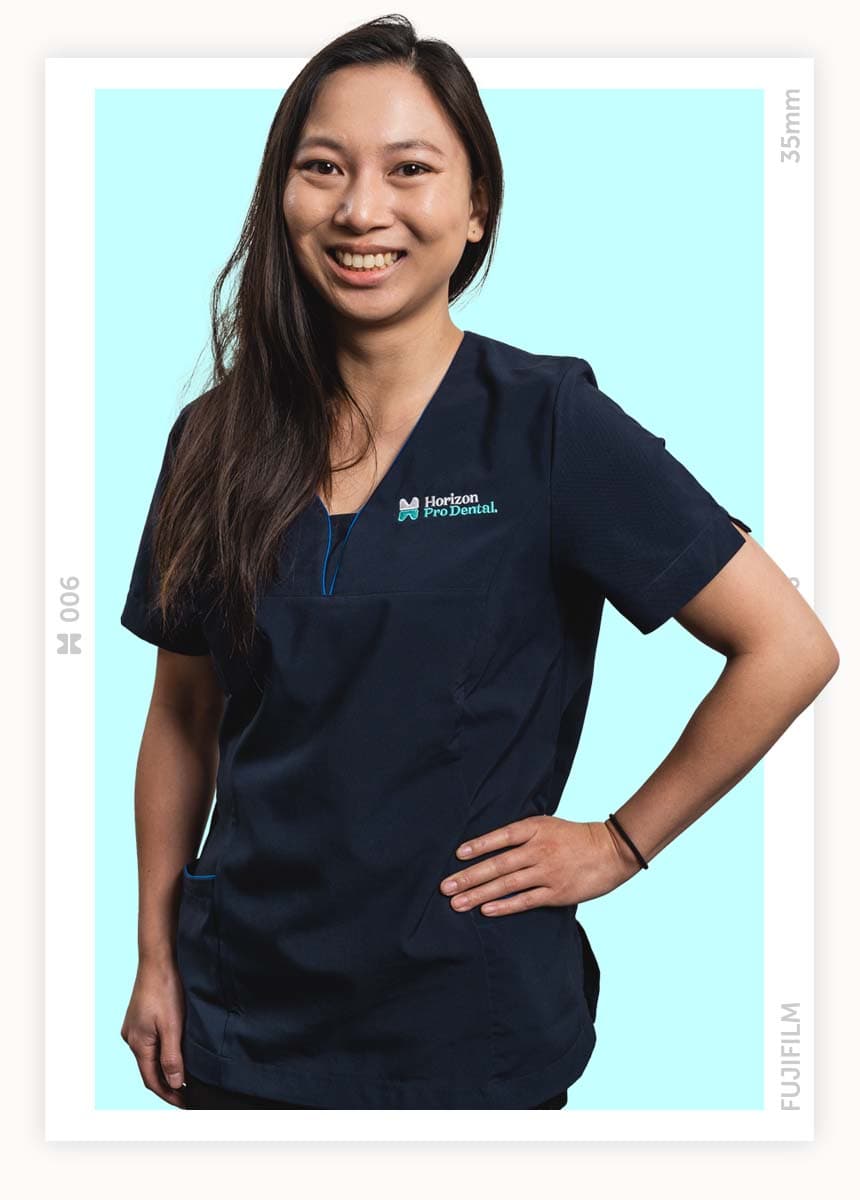 Dr Dominique Lung , DDS
Dental Surgeon
Dr Dominique Lung is an esteemed dentist who graduated from Melbourne University and previously practised in a remote area of Western Australia. With a passion for providing exceptional dental care, Dr Lung has now set her sights on serving the Woodside local community with her caring and excellent approach.
Having come from her hometown in Canada, she completed her dental education at Melbourne University; Dr Lung gained valuable experience working in regional Australia, where she witnessed the significant impact of quality dental care on underserved communities. Inspired by this experience, she felt compelled to bring her expertise and dedication to the Woodside community, where she is now committed to enhancing oral health and overall well-being.
Dr Lung's primary objective is ensuring every patient receives compassionate and comprehensive dental care. She values building strong relationships with her patients, understanding their unique concerns, and developing personalized treatment plans that address their specific needs. Driven by her genuine care for others, she strives to create a warm and welcoming environment where patients feel comfortable and at ease.
Dental Tip
Have your first aid kit prepared for unforeseen dental emergencies.
Mr Joshua Rodda, ADDP
Dental Prosthetist
Joshua Rodda is a seasoned Dental Prosthetist with over 15 years of extensive industry experience. He has been trained under Peter Rodda and is fully committed to providing exceptional care to his patients. With his previous service in Port Lincoln and Port Augusta, Joshua is now serving the Woodside community, where he has been a local resident for many years. He works hand-in-hand with our laboratory to ensure that his denture patients receive the best possible outcomes and the highest quality of care. Thanks to Joshua's personalised approach and unwavering dedication to his craft, he has gained a remarkable reputation for delivering outstanding results in the field of dental prosthetics.
Our team.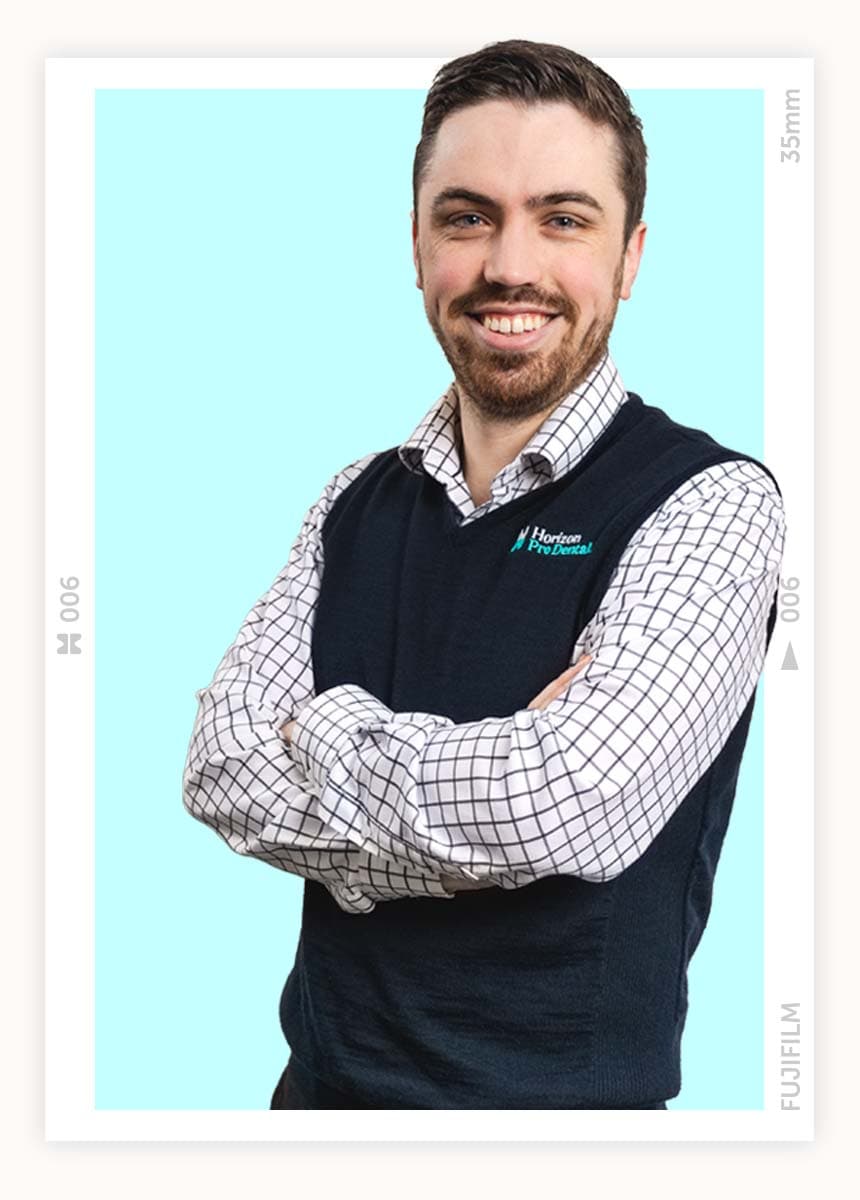 Caleb Rodda
Managing Director
Caleb Rodda is a dedicated professional who has been serving as the Managing Director of Horizon Pro Dental since 2022. He is passionate about making a positive impact on local communities by bringing high-quality dental services to those in need. Caleb's warm and compassionate personality, along with his commitment to excellence, creates a welcoming environment in every clinic under Horizon Pro Dental. He is known for his innovative mindset, incorporating advanced technologies to enhance the quality of care. Caleb's strong work ethic and collaborative spirit foster a supportive and harmonious work environment, encouraging continuous growth and improvement among his staff.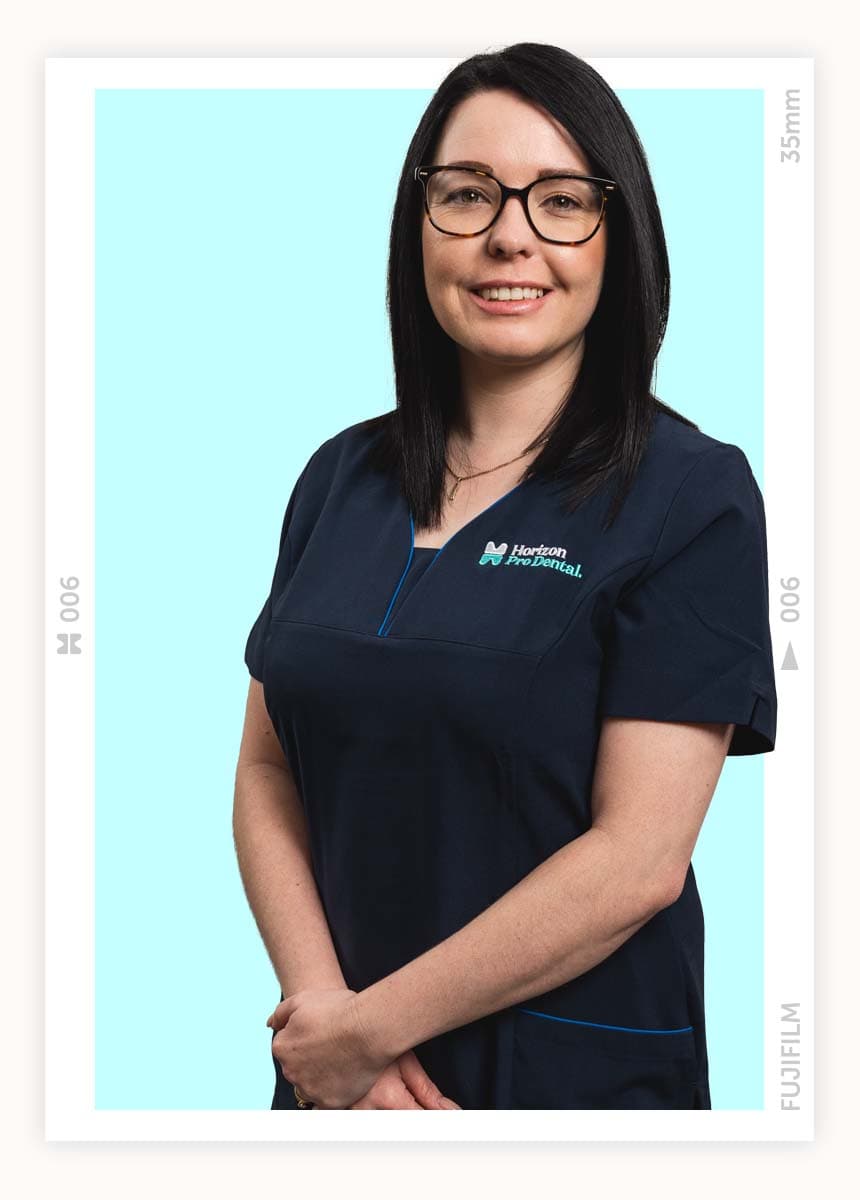 Amy Erdmann
Dental Assistant
Meet Amy Erdmann, a devoted Dental Assistant with a strong commitment to patient care and extensive experience in the dental field. With over 15 years of professional know-how, Amy possesses a profound understanding of dental techniques and procedures, making her an invaluable team member. Her skill at connecting with patients, particularly children, enables her to create a comfortable and welcoming atmosphere that puts patients at ease during their dental appointments. As a resident of Adelaide Hills, Amy takes great pride in serving her community and providing Exceptional dental care to her fellow locals. Her friendly and warm personality fosters a trusting and positive relationship with patients, enhancing their overall dental experience.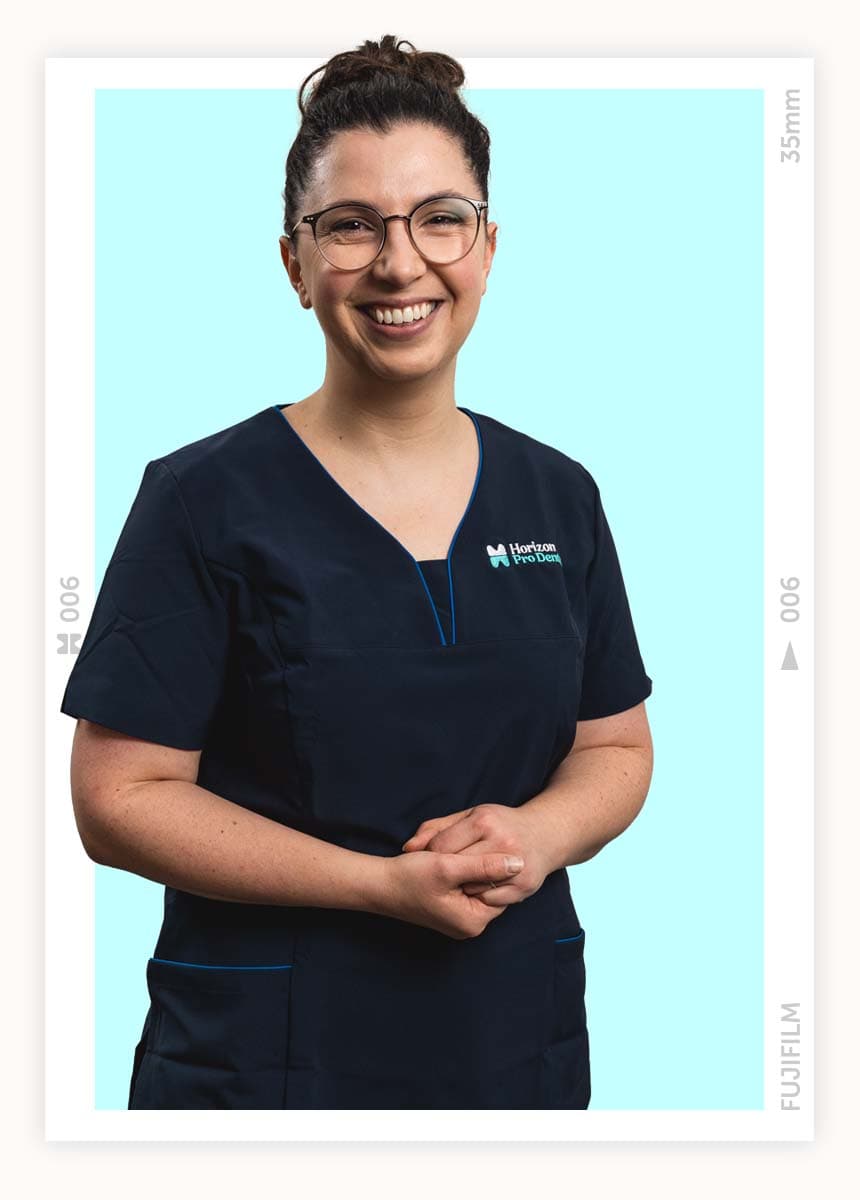 Sarah Mazzilli
Dental Technician
Meet Sarah Mazzilli, a Dental Technician at Horizon Pro Dental Laboratory with an unyielding passion for exceptional design and service in her field. She is fortunate to learn the art of removable prosthetics creation from the renowned Peter Rodda at Horizon Pro Dental Laboratory. With Peter's guidance, Sarah is honing her skills to achieve new levels of excellence.
Sarah's devotion to customer satisfaction is unwavering, and she puts her heart and soul into her work. She recognizes that a smile is more than just a set of teeth; it reflects a person's confidence and self-esteem. Sarah pays meticulous attention to detail, helping craft work that looks stunning, feels comfortable, and functions seamlessly.
Sarah believes in achieving successful outcomes through open communication, active listening, and a genuine enthusiasm for collaboration. She fosters a harmonious partnership with dental professionals, ensuring the final prosthetics blend seamlessly with their treatment plans. Her efforts bring joy to both patients and dentists alike.
Because a healthy smile is always in fashion.
Book Now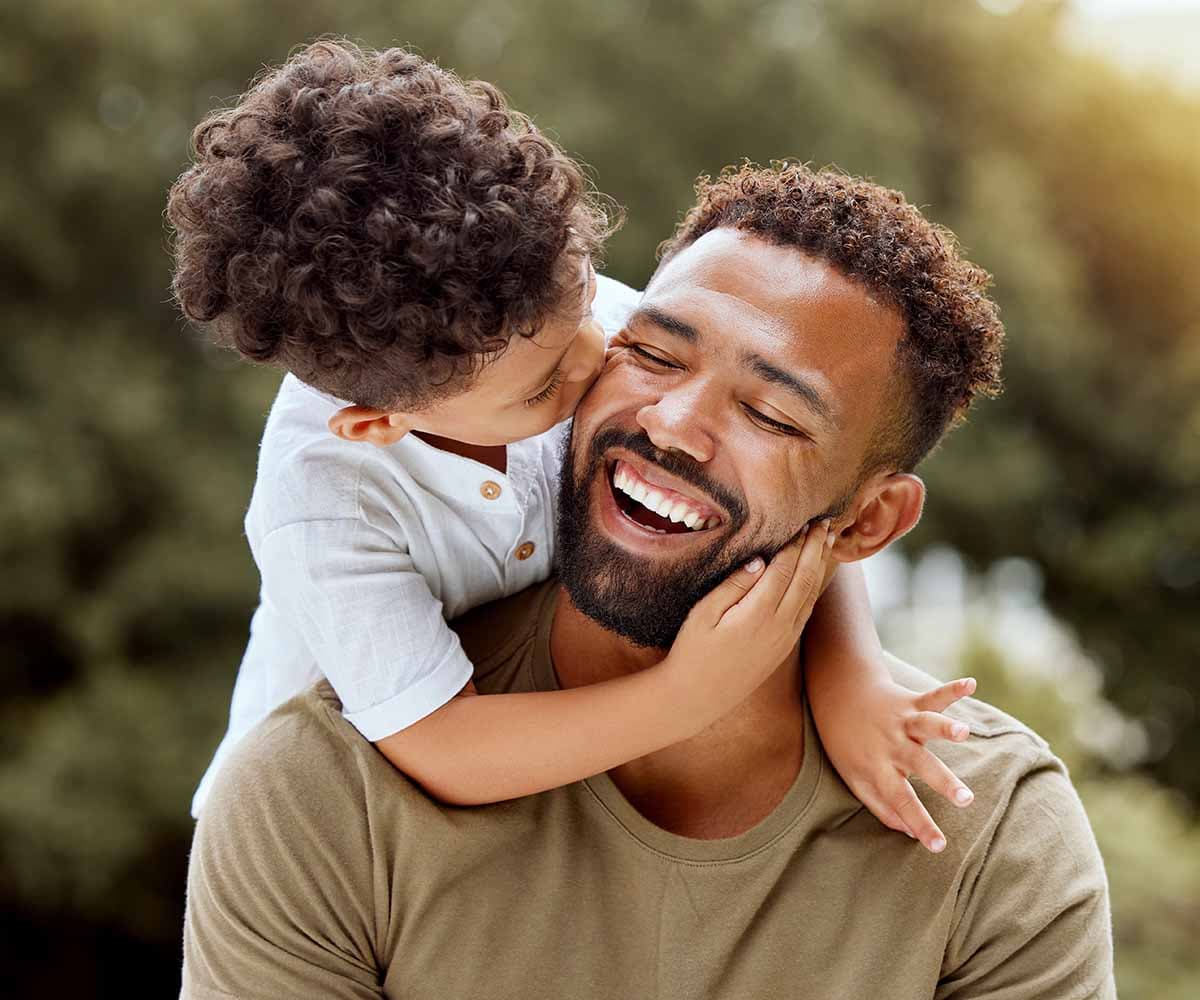 Get in touch.
Your journey to better, healthier teeth starts here.